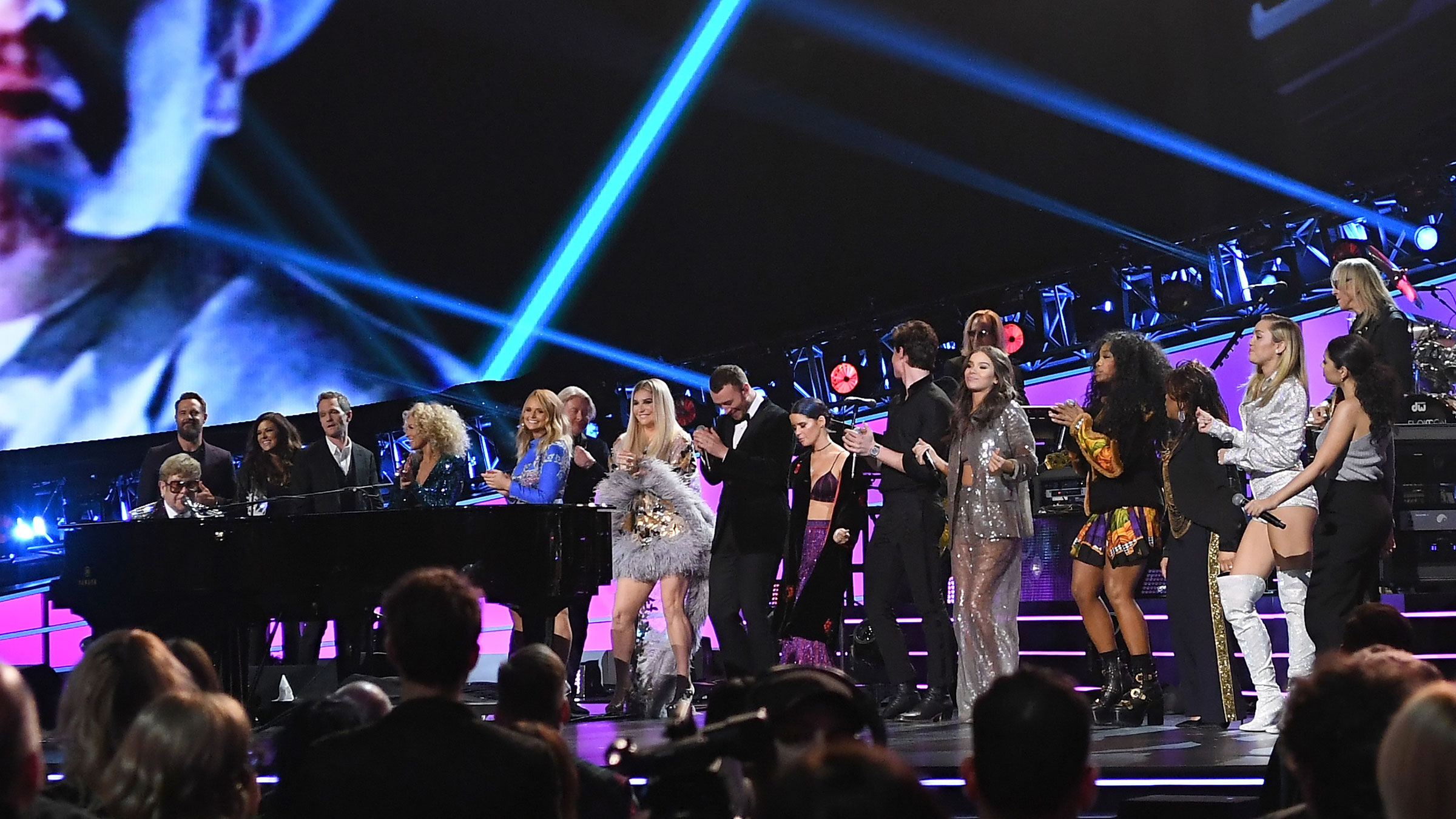 Sir Elton John begint binnenkort aan zijn grote afscheidstournee. Maar voor het zover is, verzamelden enkele grote namen uit de muziekindustrie in New York om het Britse icoon te eren, want Elton heeft een onbetwistbare impact gehad op de huidige popmuziek en -cultuur.
De special, Elton John: I'm Still Standing - A Grammy Salute 2018, werd enkele dagen na de uitreiking van de 60ste Grammy Awards op dezelfde locatie opgenomen. Madison Square Garden in New York ontplofte zowat met optredens van Lady Gaga, Sam Smith, Ed Sheeran, Miley Cyrus, Kesha, Shawn Mendes, Chris Martin, John Legend en vele anderen.
Maar ook Elton zelf mocht niet ontbreken. Hij sloot de twee uur durende show af met een medley van zijn grootste hits. Als kers op de taart brachten Sir Elton John en alle aanwezige artiesten een leuke versie van 'I'm Still Standing'.
Deze artiesten brachten een Elton-cover
'The Bitch Is Back' – Miley Cyrus
'Candle in the Wind' – Ed Sheeran
'Daniel' – Sam Smith
'I Guess That's Why They Call It the Blues' – Alessia Cara
'Your Song' – Lady Gaga

'Rocket Man' – Little Big Town
'Border Song' – Christopher Jackson & Valerie Simpson
'Don't Go Breaking My Heart' – SZA & Shawn Mendes
'Mona Lisas and Mad Hatters' – Maren Morris
'We All Fall in Love Sometimes' – Chris Martin
'My Father's Gun' – Miranda Lambert
'Goodbye Yellow Brick Road' – Kesha
'Don't Let the Sun Go Down on Me' – John Legend
'Bennie and the Jets' – Elton John
'Philadelphia Freedom' – Elton John
'I'm Still Standing' – Elton John and Ensemble
De televisieshow werd alleen nog maar in de Verenigde Staten uitgezonden, maar gelukkig voor ons, kan je al enkel fragmenten online bekijken.

Geniet mee.

Twee nieuwe Elton-albums
Voor de gelegenheid kwamen er twee nieuwe albums uit waarop pop- en countryartiesten covers brengen van Sir Elton John: 'Revamp' en 'Restoration'.
Elton in de 90's
Ook in de jaren '90 was Elton John niet weg te denken uit de hitlijsten. Denk maar aan nummers als 'Circle Of Life', 'Can You Feel The Love Tonight', 'Don't Let The Sun Go Down On Me' of het onsterfelijke 'Candle In The Wind'.
Stem jij Elton in onze Celebrate The 90's Top 900?
Doe het hieronder en luister vanaf maandag 23 april waar in onze lijst jouw favorieten belanden.