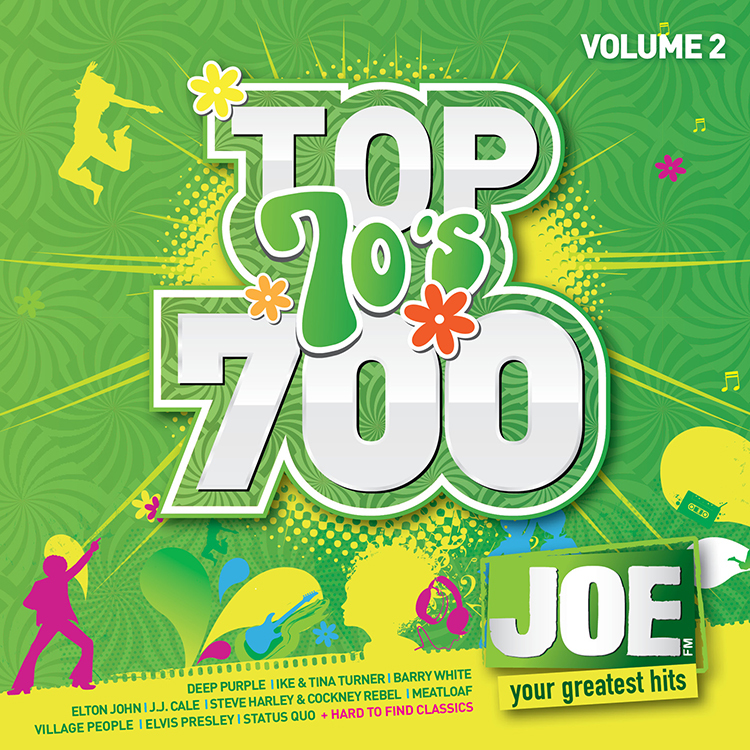 Krijg jij maar niet genoeg van de 70's Top 700? Dan hebben we het ideale medicijn voor jou. Op algemeen verzoek is er een 70's Top 700-cd verschenen die nu in de winkel ligt. Het is een fijne compilatie geworden van 3 cd's en één Hard To Find Classics-cd.
Haast je naar de winkel of download het album op iTunes en haal de 70's Top 700 in huis!
Dit vind je terug op de 70's Top 700, volume 2:
CD 1:
DEEP PURPLE - Smoke On The Water
IKE & TINA TURNER - Proud Mary
BARRY WHITE - Let The Music Play
SANTANA - Jingo
DON MCLEAN - American Pie
DONNA SUMMER - Hot Stuff
MUD - Dynamite
RAYMOND VAN HET GROENEWOUD - Meisjes
10 CC - I'm Not In Love
GEORGE BAKER SELECTION - Una Paloma Blanca
THE SWEET - Poppa Joe
AL STEWART - Year Of The Cat
COMMODORES - Easy
BONEY M - Ma Baker
IGGY POP - The Passenger
THE SURFERS - Windsurfin
BOUDEWIJN DE GROOT - Jimmy
STEVIE WONDER - Yester-Me Yester-You, Yeester-Day
GARY NUMAN / TUBEWAY ARMY - Are Friends Electric ?
SUPERTRAMP - The Logical Song
CD 2:
ELTON JOHN - Crocodile Rock
STEALERS WHEEL - Stuck In The Middle With You
BARRY MANILOW - Mandy
BILLY PAUL - Me And Mrs. Jones
ELLEN FOLEY - We Belong To The Night
BACCARA - Yes Sir, I Can Boogie
SHERBET - Howzat
BOSTON - More Than A Feeling
ROB DE NIJS - Het Werd Zomer
PATRICK HERNANDEZ - Born To Be Alive
JOHNNY & ORCHESTA RODRIGUES - Hey Mal Yo
PROMISES - Baby It's You
BONNIE TYLER - It's A Heartache
WIM DE CRAENE - Tim
CAT STEVENS - Morning Has Broken
TEACH IN - Upside Down
ALICIA BRIDGES - I Love The Nightlife
OSMONDS - Crazy Horses
GOLDEN EARRING - Buddy Joe
FOREIGNER - Cold As Ice
CD 3:
STEVE MILLER BAND - The Joker
J.J. CALE - Cocaine
STEVE HARLEY & COCKNEY REBEL - Make Me Smile
MEAT LOAF - You Took The Words Right Out Of My Mouth
LIPPS INC. - Funky Town
DALIDA - Gigi l'Amoroso
PETER KOELEWIJN - Kom Van Dat Dak Af
MINK DEVILLE - Spanish Stroll
SISTER SLEDGE - We Are Family
PETER FRAMPTON - Show Me The Way
TONY RONALD - Help, Get Me Some Help
VILLAGE PEOPLE - Y.M.C.A.
ANDREW GOLD - Lonely Boy
EARTH, WIND & FIRE - September
RUBETTES - Sugar Baby Love
MOUTH & MACNEAL - How Do You Do
ANN CHRISTY - Gelukkig Zijn
ELVIS PRESLEY - I Just Can't Help Believing
STATUS QUO - Whatever You Want
BACHMAN TURNER OVERDRIVE - You Ain't Seen Nothing Yet
HARD TO FIND CLASSICS:
MIDDLE OF THE ROAD - Bottoms Up
DANIEL BOONE - Beautiful Sunday
FOCUS - Sylvia
MOMENTS & WHATNAUTS - Girls
SHOCKIN BLUE - Inkpot
MARDI GRAS - Too Busy Thinking About My Baby
VAN MCCOY - Soul Chacha
RAYDIO & RAY PARKER JR - You Can't Change That
CLOUT - Save Me
MANHATTAN TRANSFER - Chanson d'Amour
BROTHERHOOD OF MAN - Angelo
ACE - How Long
J. VINCENT EDWARDS - Love Hit Me
RICKY KING - Verde
THE MONOTONES - Mono
SNOOPY - It's All-in The Bible
MAC KISSOON - Lavender Blue
TEE SET - Linda Linda
NAT GONELLA WITH TED EASTON'S JAZZBAND - Oh Mona
YANNIS MARKOPOULOS - Who Pays The Ferryman?