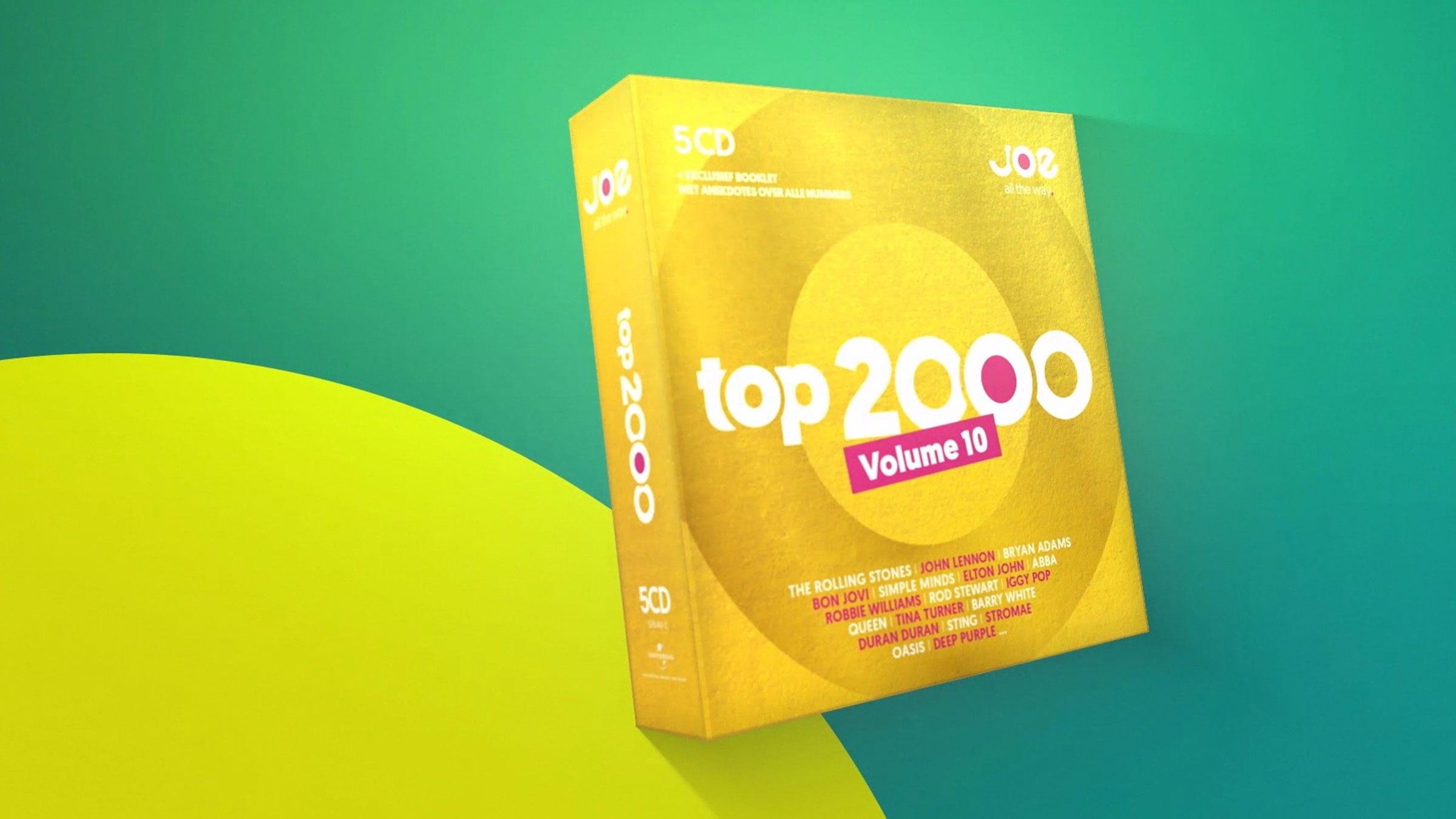 Van 1 tot en met 12 oktober trekken we bij Joe weer alle registers open met de Top 2000! Twee weken lang vliegen we non-stop in de grootste klassiekers, gekozen door de luisteraars.

De bijbehorende compilatie is ondertussen ook al een klassieker en elk jaar een bestseller! Ondertussen zitten we al aan volume 10! En dat mag niet onopgemerkt voorbijgegaan…
Voor deze speciale verjaardag wordt de verzamelaar omgetoverd tot een mooi uitgegeven luxe Box vergezeld van een extra dik boekje met teksten en anekdotes over alle nummers, geschreven door Michel Follet.
Deze unieke 5CD-Box bevat bovendien het allerbeste uit de Top 2000. Een ongeziene tracklist met alleen maar de grootste klassiekers en hits van oa. The Rolling Stones, Queen, John Lennon, Bryan Adams, ABBA, Michael Jackson, Bon Jovi, Lionel Richie, Robbie Williams, Simple Minds, Stromae, Barry White, Marco Borsato, Tina Turner en vele anderen….
Tracklist 1
1.

Queen - We Will Rock You

2.

John Lennon - Imagine

3.

The Rolling Stones - Start Me Up

4.

Bryan Adams - Run To You

5.

Bon Jovi - It's My Life

6.

Simple Minds - Don't You (Forget About Me)

7.

Elton John - Your Song

8.

Robbie Williams - Angels

9.

Rod Stewart - Maggie May

10.

James Brown - Sexmachine (Get On Up)

11.

Amy Winehouse - Rehab

12.

Barry Ryan - Eloise

13.

John Miles - Music

14.

Stan Van Samang - Een Ster

15.

Shocking Blue - Venus

16.

Patti Smith - Because The Night

17.

Status Quo - Whatever You Want

18.

Kim Carnes - Bette Davis Eyes

19.

Richard Marx - Right Here Waiting

20.

The Righteous Brothers - Unchained Melody

21.

Stromae - Formidable
Klik hier om de Joe Top 2000 volume 10 CD te bestellen of download hier in iTunes.